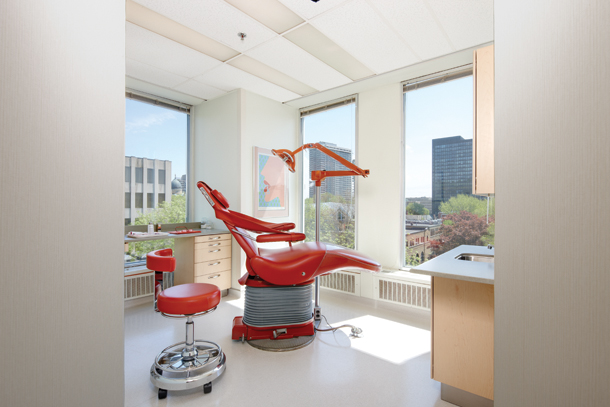 The Perio Montreal practice has been around for almost 60 years. Founded by the late Dr. Robert Harvey in the early 1950's, he was the grandfather of modern periodontology in Montreal. He took in Dr. Marvin Stutman in 1969 and Dr. Mel Hershenfield joined in 1972 as the practice moved to its current location at 4141 Sherbrooke St West. Just one year later in 1973, Dr. Marvin Werbitt joined the office and the current triumvirate of partners was in place. Several different associates have been a part of the practice over the years. The two current associates, Dr. Jeremy Werbitt and Dr. Bram Salis, have brought with them superior clinical skills, a dedicated work ethic, and renewed energy to the Perio Montreal practice.
Perio Montreal has long been one of the largest and most prestigious periodontal offices in Montreal and is well known in the dental community for delivering the highest level of care to their patients. Dr. Marvin Werbitt was a pioneer in the field of implant dentistry, adding a revolutionary new facet to the practice in the mid 1980's and lecturing worldwide for many years on the topic. Dr. Stutman, Dr. Hershenfield, and Dr. Marvin Werbitt were clinical instructors at McGill University's Faculty of Dentistry for many years; Dr. Hershenfield remains associate clinical professor there. The partners also taught at numerous dental residency programs at the Jewish General, Montreal General, Royal Victoria, and Queen Elizabeth Hospitals. Dr. Jeremy Werbitt and Dr. Bram Salis are currently assistant clinical professors at McGill University's Faculty of Dentistry and the Jewish General Hospital dental residency program.
Dr. Stutman, Dr. Hershenfield, and Dr. Marvin Werbitt have been a part of many different dental and periodontal organizations at the Municipal, Provincial, National, and even International level. Dr. Hershenfield is currently an examiner for the Royal College of Dentists of Canada, which governs all dental specialists in the Country. Perio Montreal was among the first to implement hygienists into clinical practice in the early 1970's to aid in patient maintenance, something unheard of at the time that is now standard in almost every dental office. Dr. Stutman was very involved in the development of a program to train hygienists at the University of Montreal and then later at John Abbott College. Perio Montreal has been at the forefront of continuing education, hosting lectures by some of the biggest names in the field for many years. Perio Montreal remains committed to educating patients, other dental professionals, and of course our selves as the field of dentistry continues to evolve.