History
A 36-year-old south Asian male presented with a chief complaint of painful lip lesions that had appeared over the previous year. He also complained of a generalized burning sensation with consumption of spicy, citrus, and hot food. There was gingival soreness and bleeding with tooth brushing. He denied any concurrent cutaneous or ocular lesions. He was otherwise healthy. He reported an allergy to penicillin and he was not taking any medication on a regular basis. He was a smoker with a 20 pack year history and he consumed 3 beers per day.
Examination
The perioral examination was unremarkable and no palpable lymphadenopathy was detected. Intraorally, there were eroded and erythematous areas bilaterally on the buccal mucosa and on the upper and lower labial mucosa. There were fine white radiating striae at the periphery of the atrophic lesions.  The right and left posterior lingual marginal gingivae were tender and erythematous (Figure 1). Oral hygiene was poor.
Figure 1: a: Erythematous posterior lingual gingiva
Differential diagnosis
The following diagnoses were considered based on the presence of a multifocal bilateral diffuse erythematous and ulcerative presentation
Oral Lichen planus (OLP)

Discoid Lupus erythematous

Vesiculo-bullous diseases such as pemphigus vulgaris or mucous membrane pemphigoid

Chronic ulcerative stomatitis

Candidiasis
Diagnostic procedures
An incisional biopsy of the right buccal mucosa adjacent to the ulcer was performed under local anesthetic to obtain a tissue specimen. Half of the specimen was placed in formalin fixative for histopathologic examination (H&E); the other half of the specimen was placed in Michel's transport medium for Direct Immunofluorescence (DIF).
The microscopic examination of the specimen showed atrophic epithelium with saw-tooth rete ridges and basal cell degeneration. There was a band-like primarily lymphocytic infiltrate immediately underlying the epithelium (figure 2). Both the histopathologic and DIF studies were consistent with OLP.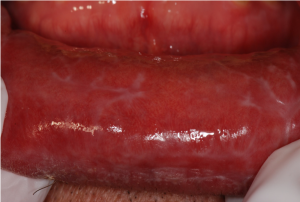 Figure 2: Erythematous lower labial mucosa with white straie
Discussion
OLP is a common cell-mediated mucocutaneous disorder, affecting 0.1% to 4.0% of the general population.  It is mainly found in middle age female patients. Based on the predominantly T-lymphocyte infiltrate, OLP is thought to be an immunological process triggered by an antigen that alters the basal keratinocytes making them susceptible to a cellular immune-mediated response. Predisposing factors, such as stress, genetic susceptibility, hepatitis C (in certain populations), food allergy, oral habits, and metabolic disorders may also play a role in establishing the inflammatory process. OLP involvement can increase and decrease over weeks or months.
OLP-like lesions can develop adjacent to dental amalgams or in response to cinnamon or even certain medications (e.g. NSAIDS, antihypertensives, oral hypoglycemics, and antimalarials). These OLP-like lesions are termed "lichenoid" since they resemble OLP clinically and histologically.
OLP confined to the gingiva can resemble many other conditions that present as desquamative gingivitis and a biopsy with histopathologic assessment is needed for a definitive diagnosis.
Lichen Planus can also affect the skin, nails, ocular and ano-genital mucosa. The skin lesions have been described as purple, polygonal, pruritic papules, which are often crossed by fine, lacy white lines (Wickham's striae). These lesions usually affect the flexor surfaces of extremities.
The classification of oral lichen planus (OLP) is based on clinical presentation and is divided into 2 main forms: reticular and erosive lesions.
Reticular oral lichen planus
Reticular OLP, most common form of OLP, is named for the lace-like pattern of fine white lines that appear most commonly on the posterior buccal mucosa bilaterally (figure 3). It may also be seen on the lateral and dorsal tongue and the gingiva. The diagnosis of reticular OLP is usually made on the history and clinical features. It is typically asymptomatic and does not require treatment.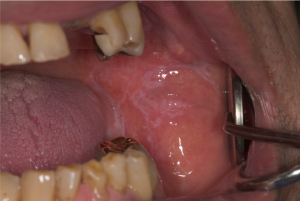 Figure 3:Left buccal mucosa shows lace like white lines consistant with reticular OLP
Erosive oral lichen planus
Erosive OLP is usually symptomatic. The most common complaint is oral soreness or a burning sensation, especially with consumption of hot, acidic, or spicy food or drink. Clinically there are ulcers surrounded by erythematous areas that frequently display peripheral radiating white striae. These lesions can be very persistent and can foci of hyperpigmentation. Erosive OLP is often biopsied to exclude other conditions. It is thought that OLP malignant transformation is more likely to occur in erosive or ulcerative lesions.
Management
There is no cure for OLP. Rather the predisposing/aggravating factors should be identified; the goal of management is to reduce or eliminate symptoms and erosive features (erythema and ulceration). Initial management typically involves topical corticosteroids. Patients who are unable to take topical corticosteroids may be managed with topical tacrolimus however they must be informed about the US Food and Drug Administration (FDA) black box warning concerning the potential cancer risk. Cases that do not respond adequately to topical treatments may require a short course of systemic corticosteroids.
Mild to moderate symptoms:
0.05% clobetasol propionate gel
Apply a small quantity to the affected site three times a day, refrain from eating or drinking for 30 minutes afterward.
Widespread symptomatic lesions:
0.1-% dexamethasone elixir
Swish 5 mL for 1 minute and spit out three times daily. Do not swallow.
Severe symptomatic or recalcitrant lesions:
Prednisone 0.50 to 0.75 mg/kg for 10-14 days
Alternative agents:
0.03% Tacrolimus ointment
Apply a small quantity to affected site twice daily.
Reference
Scott S. De Rossi, Katharine Ciarrocca, Oral Lichen Planus and Lichenoid Mucositis, Den Clin  North Am 2014; 58( 2): 299-313
Edwards, P. C., & Kelsch, R. (2002). Oral lichen planus: clinical presentation and management. Journal-Canadian Dental Association, 68(8), 494-499.